Abstract:
Experiencing a flood in your building can be a total nightmare. But there are things you can do to ensure it is dealt with quickly and effectively to mitigate any further damage.
In this article we will look at the ways in which buildings can get flooded, what you need to do, the damage that it causes and also what action a professional cleaning company will take. We will also highlight some of the signs that indicate you could have water damage which isn't always obvious.
Ways in which your building can get flooded
There are a number of reasons why you might experience a flood in your commercial or residential property.
External ingress of water - you could experience an ingress of water in your building from outside flooding. Rainwater could also cause flooding if it comes in through holes in your building, such as broken roof tiles. In heavy rainfall water could enter your property very quickly
Burst or leaking pipes - there are a number of reasons why pipes may leak or burst. This could be down to faulty plumbing, aged pipework, blockages in pipes or weather conditions.
Burst or leaking water tank - water tanks are commonly found in lofts, meaning if there is a problem and the tank leaks, you could experience water damage throughout your property.
Sewage back up - If a sewage pipe is blocked or broken, it could result in sewage backing up into your property. Some common causes of this are tree roots damaging or blocking pipes, faulty plumbing and incorrect solids and liquids being poured down the drain or flushed away. Our article 'Common causes of sewage back ups' gives more information on this, as well as highlighting the signs that could indicate there is a problem along with measures you can put in place to reduce the chances of a sewage backup into your home.
All areas of a building can be flooded and experience water damage but flooded basements are most common, as they are the lowest point in a building.
What you should do first
If you experience a flood in your building, you need to make sure everyone is safe. Then make a call to your insurance company to understand your policy and if there are any particular steps you need to take. You then need to call in a professional cleaning company, who provides a sewage cleanup service.
It might be tempting to tackle the cleaning yourself but there are often hidden dangers and damage as water can get into places that you can't see, such as under floors, in the wall cavities, causing damage to the structure of the building and causing mould to grow.
Things you can do whilst you are waiting for the sewage cleanup company to come to you
Many sewage cleanup companies offer an emergency cleanup service, Flood Doctor can be onsite within hours of your call.
While you are waiting for the cleaning company to arrive, there are some things you can do, but only if it is safe and you are comfortable to do them.
Block off the area to prevent any cross contamination.
Keep children and animals away.
Turn off the gas, water and electricity supply (please note that this should not be done unless it is completely safe for you to do so, as the professionals will deal with this for you)
Try to keep the area well ventilated, however air conditioning units should be turned off as the moisture in the air can cause damage to the system.
Remove only essential, uncontaminated items.
Flood water can be dangerous as it may contain sewage or chemicals. If you are exposed to flood water, it is important to wear the appropriate personal protective equipment. This includes gloves, wellies and a face mask. You should also remember to wash your hands to minimise cross contamination and to further protect yourself and others.
Sewage clean up
Sewage water will require specialist cleaning as there are so many dangerous contaminants which can have serious implications on the health of those who come into contact with it. See our blog post The dangers lurking in sewage water for more information on the bacteria and viruses that are found in sewage water.
Flood Doctor are experts in all types of water damage remediation services and provide a sewage cleanup service.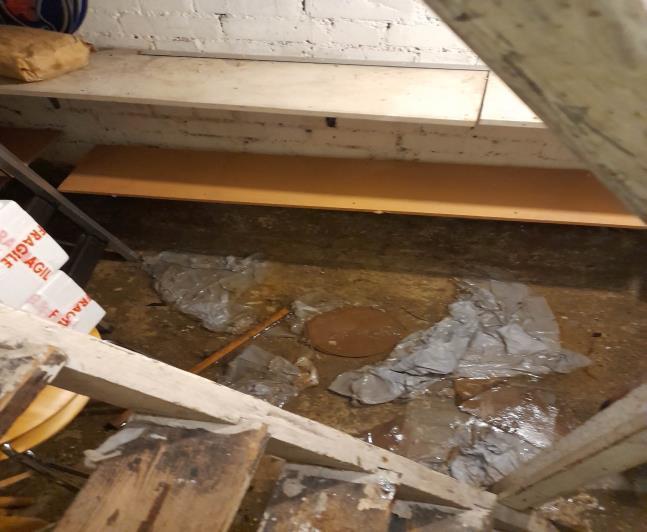 Sometimes water damage isn't obvious...
Sometimes you may not even be aware that your building has experienced water damage.
You may see damp patches or mould on the walls or ceilings, this could be down to poor ventilation but it can also be caused by a hidden ingress of water from burst pipes or a leak in the roof.
Flood Doctor offer a Damp and Moisture Survey which can detail the level of damp and moisture in a property, which areas have been affected, what the cause is and how the problem can be rectified.
Damage that can be caused by a flood
The damage caused by flooding can be significant. Flood Doctors surveyors will complete a full site survey and risk assessment, to fully understand the areas that have been affected and come up with the best solution for your situation. In order to remediate the damage caused and mitigate any further damage.
Flood water can damage the structure of the building, walls, floors and ceilings. Flood Doctor have state of the art drying equipment which allows them to carry out sophisticated drying methods and techniques. Having access to and having the knowledge/expertise of how to use professional drying equipment, can significantly reduce the unfortunate requirement of having to carry out strip out works. Avoiding strip outs can drastically reduce your costs and speed up the water damage restoration process.
Appliances and furnishings can be damaged beyond repair. These will need to be disposed of safely and will need to be reported to your insurance company.
Mould - trapped moisture can cause mould to grow which can damage surfaces and is dangerous to your health.
What the professionals will do
Flood Doctor will visit the site to assess the damage, followed by the completion of a full site survey and risk assessment. We will do this using the latest technology, including a drone, to understand the full extent of the water damage. If possible, remediation works can begin immediately.
Our highly trained technicians will make the area safe, putting up barriers if necessary.
We will use pumps and humidifiers to remove as much water as possible.
All surfaces and materials will then be fully disinfected and cleaned.
We will then install drying equipment that we can access and control remotely, to thoroughly dry out the building.
We will keep you up to date throughout the whole process.
Once completed, we will provide you with a hygiene certificate and documentation detailing the work carried out. This includes the results of any swabs taken, before, during and after the remediation process.
We will also provide lists and photos of any items we were unable to salvage for you to forward to your insurance company.
Flood Doctor provides a rapid emergency response, if you have experienced water damage call us today on 0800 285 1447.