Kings Langley – Leak from the loft
---
We have received a phone call from a distraught homeowner who has just returned from holidays to find that his property has been severely damaged by a leak from the faulty valve in the expansion tank located in the loft space.
Water travelled both horizontally and vertically affecting loft, master bedroom, en suite, bathroom, landing, airing cupboard, hallway, under stairs cupboard, kitchen and office with master bedroom, kitchen and office also affected.
Without delay our team has begun the cleanup operation, all of the floor coverings (mainly carpets) in the affected rooms have been removed and disposed of, insulation has been removed from the loft space, mould contaminated surfaces have been cleaned and sanitised, all debris bagged up and removed, whilst the works were undergoing we have contacted our electrician who has attended the property and installed the temporary power supply as it was unsafe to use the existing installation.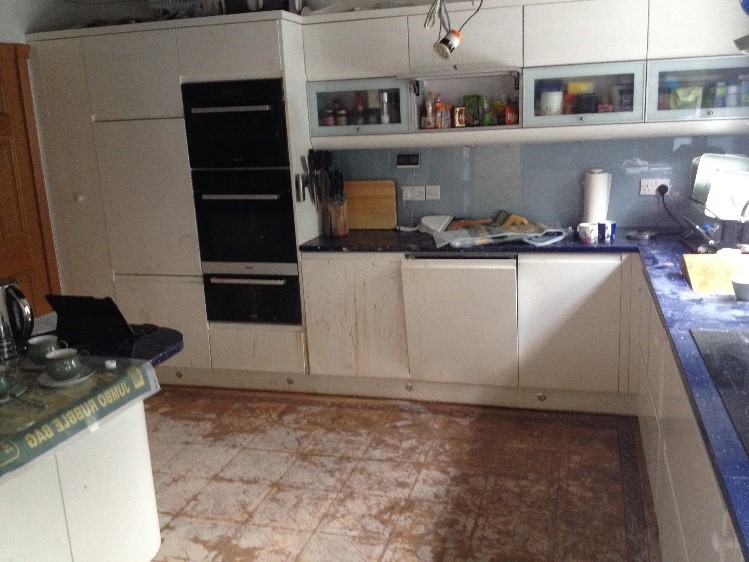 Once the electrical supply in the property has been restored, we have installed drying equipment to kick start drying process and prevent further deterioration of the building materials and damage to the contents.
Our team has returned the following day to prepare an inventory of the damaged items and carry out full moisture survey. A technical report which included moisture survey results, inventory and the scope of works has been prepared and sent to our client who has forwarded it to his insurers.
Due to our professionalism and prompt response, the insurers have authorised the costs and gave us the go-ahead to proceed with the additional works as per the proposed scope and covered the costs for the works which have been already carried out. The drying of this property has been completed in three weeks.