Sewage Cleanup for a Clothing Store in Marlow, Buckinghamshire
---
Background
We were contacted in May this year by a clothing company who had experienced a sewage backup in their store.
We attended the site to complete an emergency sewage cleanup and sanitisation.
Upon arrival we found the floor, lower walls and contents located on the floor in the open plan store room, the welfare area and the WC had suffered severe levels of contamination. Standing black water and faeces were covering most of the floor.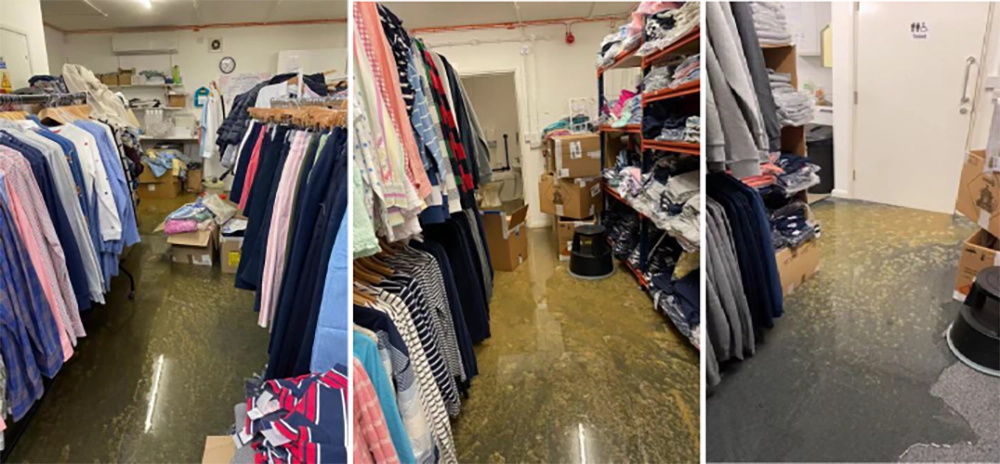 Initial Cleaning and Decontamination
We had two technicians and a senior technician on site, who worked through the night to complete the initial cleaning and decontamination.
The team began by extracting standing water and solids from the surface of the floor.
The floor coverings, which mostly consisted of carpet tiles glued to plywood, were removed. Exposed surfaces were cleaned and sanitised using a broad-spectrum biocide.
Due to the health risks associated with sewage, we recommended that the store prevent access for staff and customers until after remediation works had been completed. This would also prevent any cross contamination.
For more information on the health risks associated with sewage, take a look at our article the dangers that lurk in sewage water.
Our Solution
Following the initial cleaning and decontamination we produced the following remediation plan:
All non affected stock to be moved to external storage or a different branch to prevent cross contamination whilst remediation works are being carried out.
Damaged stock to be photographed, listed and disposed of.
All remaining contents to be moved to external storage to enable the removal of the floor, insulation, timber battening and polythene DPM.
Exposed floor to be removed (if necessary) or cleaned and sanitised.
Plasterboard to be cut from affected walls up to 500mm high.
Removal of boxing behind the toilet to facilitate cleaning and sanitisation.
Cleaning and sanitisation of all exposed surfaces
Investigations to see if sewage has penetrated into the main shop floor via sub-floor void.
Installation of drying equipment to remove excess moisture, upon completion of cleaning and decontamination.
Our remediation plan was successfully completed.
Follow Up Moisture Survey
We revisited the site in July, 6 weeks after the initial incident, to conduct a moisture survey.
The equipment we used was the Tramex CMEX 5, which provides % moisture content (%MC) readings.
We were pleased to confirm, upon completion of this visit, that the moisture levels had returned to natural levels and were almost uniform throughout the entire floor.
Drying equipment could then be removed and certificates issued to our client.
Certificates
Certificate of Dryness
This certificate is issued to confirm the building has been dried to its pre incident condition.
Indoor environmental conditions are at a safe and acceptable range of moisture that will not result in secondary damage or associated ill-health.
The affected materials have been returned to within a safe and acceptable range of moisture.
Affected materials will continue to dry naturally and unassisted.
All final moisture readings taken of structural elements in affected areas of the building were at safe and acceptable levels at the time of our visit.
Decontamination Certificate
This certificate is issued to confirm the site has been appropriately sanitised and details of works completed.
In this instance the details confirmed were:
Initial extraction, cleaning and sanitation of all contaminated surfaces
Removal of sewage-contaminated stock
ATP Testing
Removal of all building materials which came into contact with sewage water
ULV Fogging using a broad-spectrum biocide
Flood Doctor offers a safe and comprehensive Sewage Cleaning Service, for more information contact us on 0800 285 1447.