Abstract:
Flood Doctor are delighted to announce that we have received the Achilles Certification.
What is the Achilles Certificate all about?
The Achilles Certificate is recognised across the world. Founded in 1990, Achilles goal was to give more control to organisations by identifying, assessing, qualifying and monitoring supply chains. Therefore reducing the risk for buyers in a variety of industries, including construction.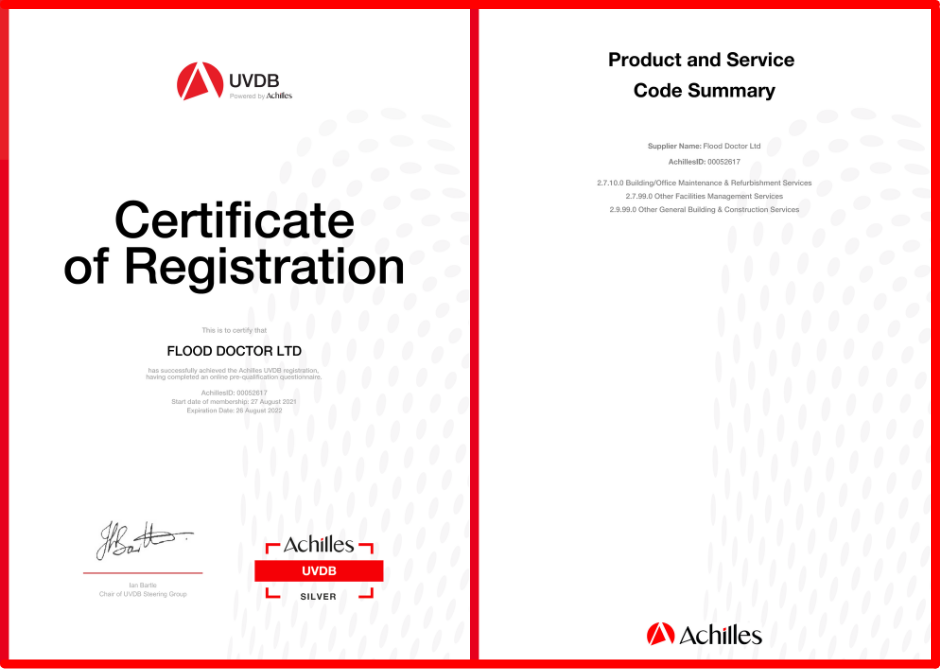 Why is it important for suppliers and companies to get the Achilles Certificate?
An Achilles certification identifies a supplier as being reliable and trustworthy, delivering quality products and services.
When Achilles assess a supplier they look into products and services, health and safety, environmental compliance, quality management, supply chain management,
carbon management, corporate social responsibility, insurances, financial accounts and legal compliance.
They will carry out an audit to ensure the correct standards are met for all of the above.
When looking for suppliers, buyers therefore have peace of mind that if a supplier has the Achilles Certificate then they have been assessed and confirmed as having the respected values Achilles requires.
Moving forward
Whilst already working alongside established construction firms, we are constantly looking at ways to improve and maintain quality assurance. To reassure organisations that by working in partnership with Flood Doctor they will receive a quality, transparent and efficient service.